This recipe requires 3 1/2 cups of chokecherry juice. If using a steam juicer for extraction, you may add up to 3/4 cup of water to extracted juice (adding water is not required though).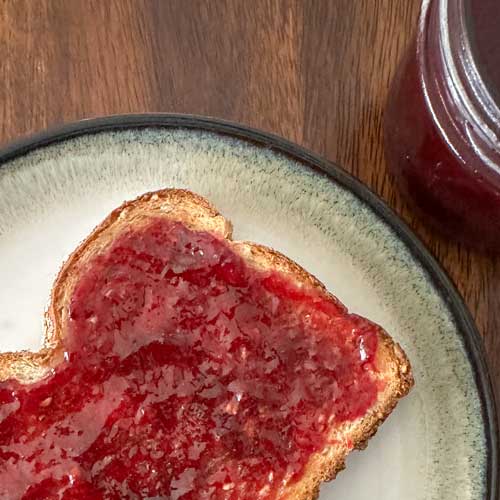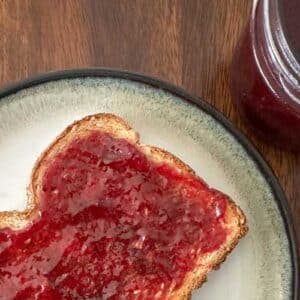 Growing up in North Dakota, chokecherry jam, jelly, and syrup were a staple for our preservation repertoire. When I joined the Air Force and moved out of the state, I realized that chokecherries are among the lesser-known fruits outside the Midwest. If you've stumbled upon this post, you more than likely already know that chokecherries make an extraordinary jelly. They have a distinctive taste and grow abundantly in certain parts of the world. Today, I will guide you through an easy-to-follow, step-by-step process of making your chokecherry jelly and answer some common questions about this unique fruit.
What is Chokecherry?
Chokecherry, scientifically known as Prunus virginiana, is a North American native shrub that produces small, tart, reddish-black fruit. The fruit clusters start as bright red but usually ripen to a deep red or near-black color. They're known for their astringent, or "choke" flavor, which almost completely disappears when they're fully ripe.
‍Photo by LocoLocal on Pixabay
Always ensure that the plant you are harvesting from is indeed a chokecherry plant. There are several look-alikes out there, so it's essential to make a correct identification.
Choke cherry jelly stands out because its unique flavor is a perfect blend of tart and sweet. If you do a little digging, you can buy commercially produced jelly. However, if your area has chokecherry trees, you can likely find the fruit in abundance to pick. Plus this fruit is super easy to preserve, which makes it very popular among home canners.
Preparing for the Jelly-Making Process
Before you start your chokecherry jelly production, you need to gather a few essential items. These include:
Chokecherries
Sugar
Water
Pectin
Almond Extract (optional)
Butter (optional)
Kitchen Utensils

Steam juicer – (my preference over a jelly bag or cheesecloth)
Large saucepan
jelly bag or cheesecloth
canning jars, lids, rings, funnel, etc.
Harvesting Chokecherries
The first step in making your chokecherry jelly is to harvest the chokecherries. The best time to pick chokecherries is in late summer when they are fully ripe. The ripe chokecherries are usually dark in color or almost black. However, remember to taste a few to ensure they are ripe enough for jelly-making.
Tip: As you compete with birds, bears, and other wildlife for these little gems, it's best to harvest them as soon as they're ripe.
Freezing Chokecherries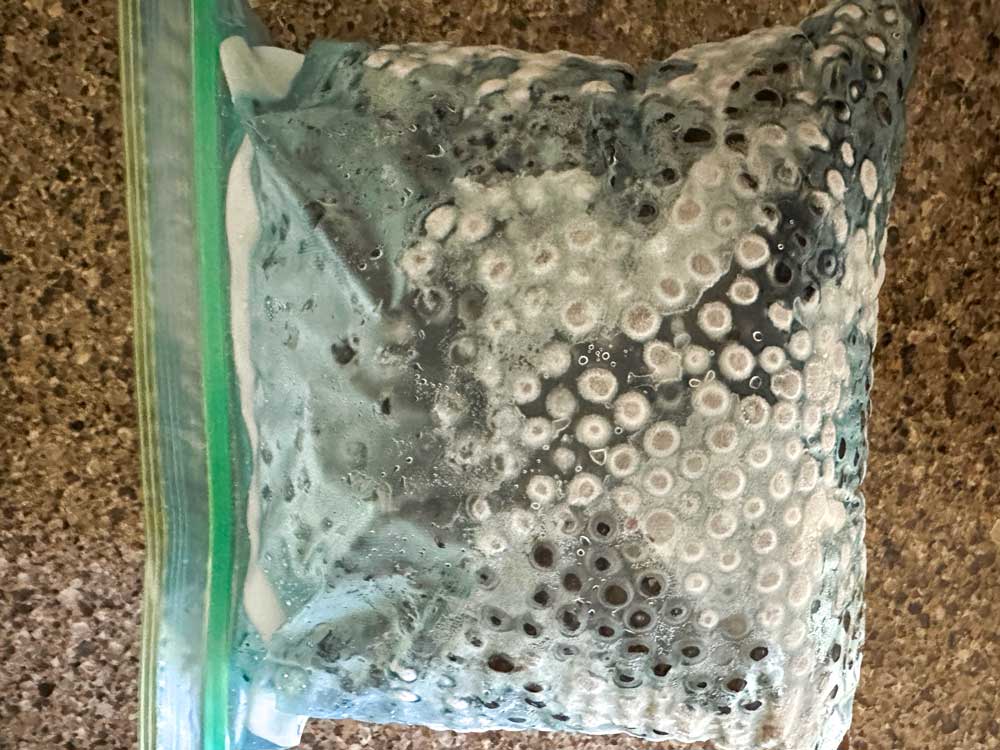 If you're like me most years, you may not be in a good place to start canning your freshly picked chokecherries. The great news is that chokecherries are incredibly easy to freeze. To Freeze:
Wash your cherries thoroughly and remove any stems and leaves.
Place your cherries in a gallon-size resealable bag and freeze for up to 2 years.
When you are ready to make your jelly, simply take your frozen cherries out of the freezer and begin extracting the juice.
Juicing the Chokecherries
Once you have harvested your chokecherries, the next step is to extract the juice. There are two methods for juicing, straining through a jelly bag or steam juicing.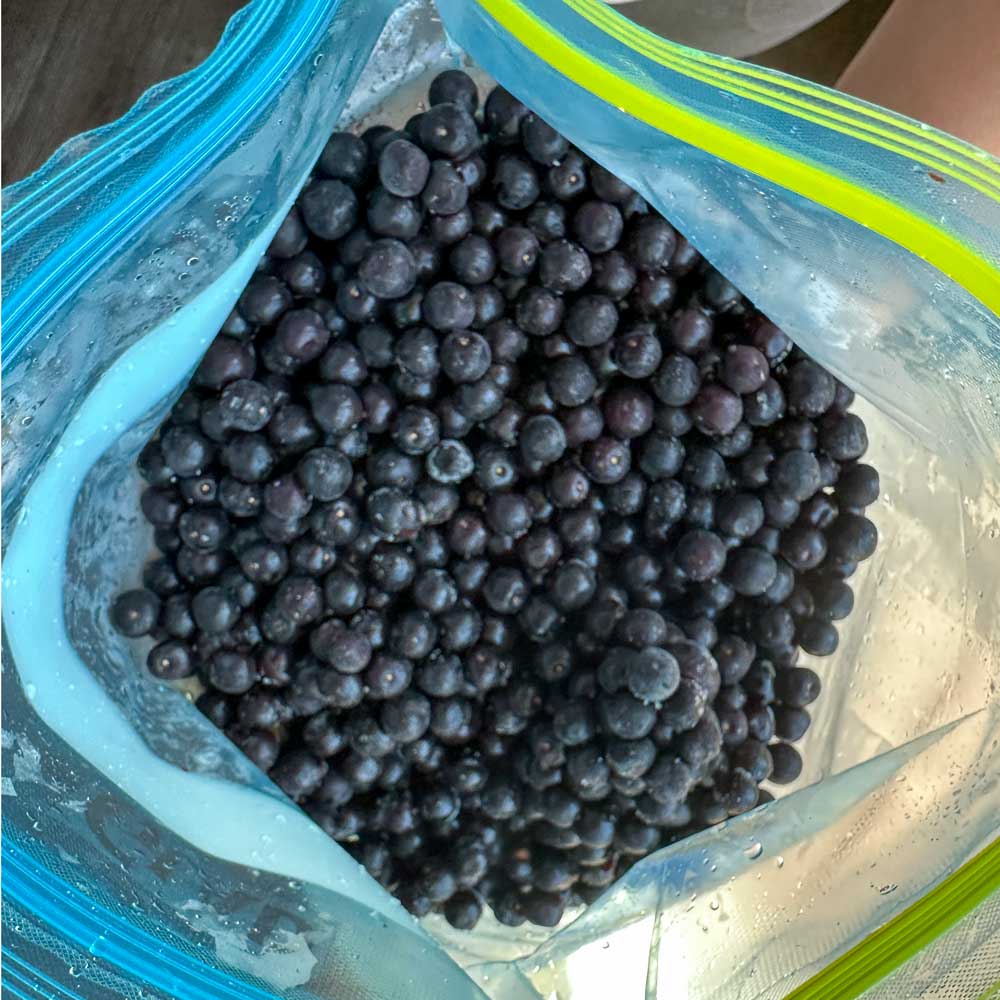 Method 1: Straining the Juice
This method is messier, requires less equipment, and produces a higher water-to-juice ratio.
Wash the chokecherries thoroughly and remove any stems and leaves.
Place the cleaned chokecherries in a large saucepan and cover them with water.
Bring the water to a boil and let the chokecherries simmer for about 30 minutes.
After simmering, crush the fruit to release the juice.
Strain the liquid through a jelly bag or cheesecloth.
Note: Be careful not to crush the seeds as they contain amygdalin, which converts to cyanide when crushed. Always discard the seeds after straining the juice.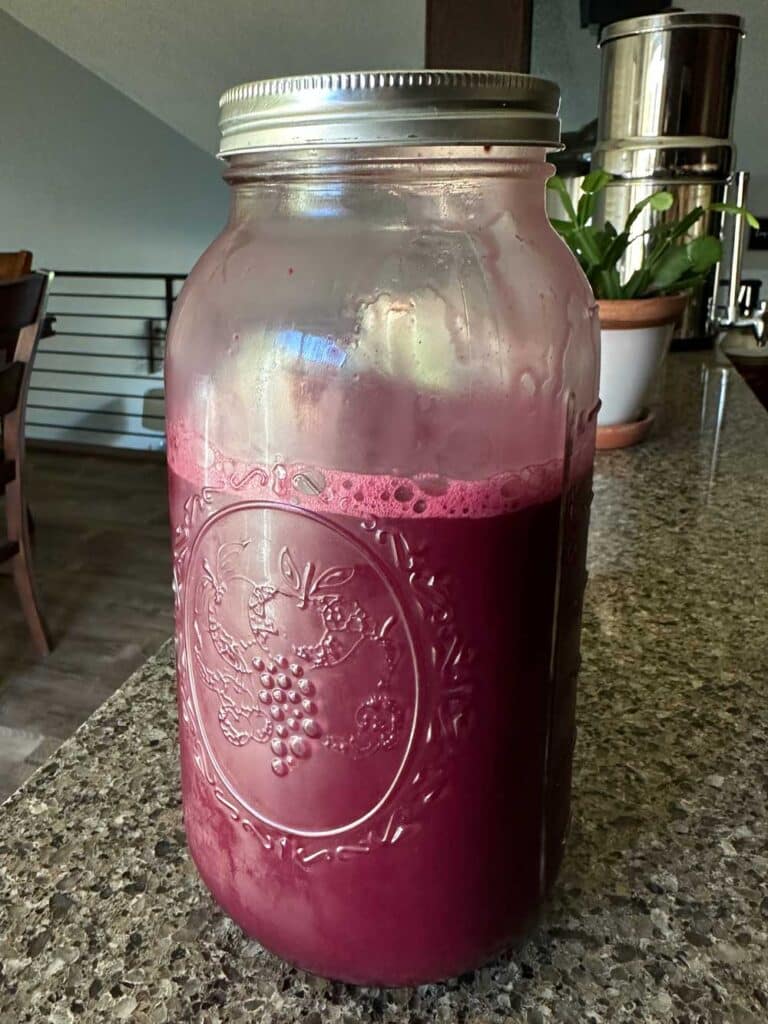 Method 2: Steam Juicing
This is by far my preference for extracting the juice and results in a more concentrated and flavorful juice.
If you have any intention of juicing other fruit for jelly, I HIGHLY recommend you buy a steam juicer, like this one.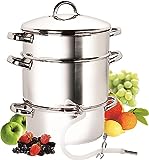 Wash the chokecherries thoroughly and remove any stems and leaves.
Place water in the bottom of the steam juicer.
Set the juice collector on top
Make sure the tube is clamped
Place the built-in colander filled with chokecherries on top.
Cover the colander with choke cherries and heat on medium-high heat, while cherries release their juice.
Periodically check to make sure the water in the bottom of the steam juicer does not run out.
When there is enough juice in the middle tier, you can place the tube in a jar and release the clamp.
Once your steamer slows on collecting juice, you can lightly press down the chokecherries to release any remaining juice.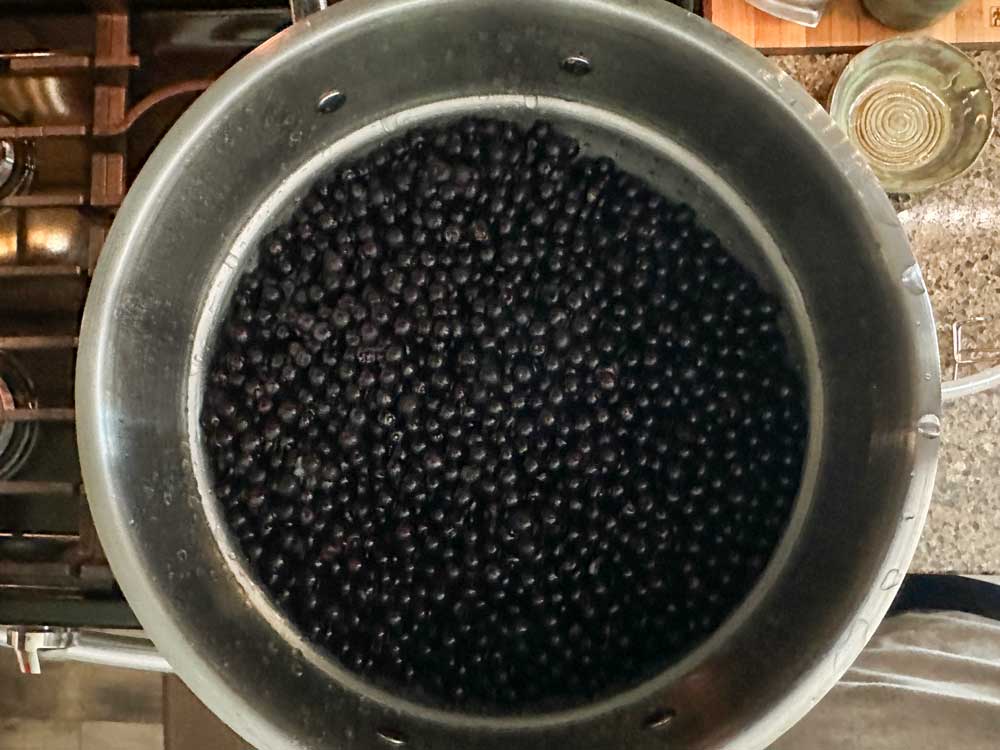 Making the Chokecherry Jelly
Now that you have your chokecherry juice, it's time to make the jelly.
Measure the juice and pour it into a large saucepan. NOTE: If you used a steam juicer, you may add up to 3/4 cup of water to get the required 3 1/2 cups of juice and the results are still very flavorful.
Bring juice to a hard boil.
Add pectin and boil for 1 minute.
Add sugar and butter and boil for 1 minute.
Mix in almond extra (if using).
Skim the foam off the top of the jelly
Pro Tip: To test for the gel stage, place a spoonful of the jelly mixture on a cold plate. If it gels, it's ready. Alternatively, you can use a thermometer to check if the mixture has reached 220° Fahrenheit (104° Celsius).
Canning the Chokecherry Jelly
Canning your chokecherry jelly allows you to store it for a longer period and makes a lovely Christmas gift. Here's how you can do it:
Fill your canner with enough water to cover the jars with 1 inch of water over the top.
Clean your jars and lids.
Fill the jars with the jelly, leaving about ¼-inch headspace.
With a damp cloth or paper towel, wipe the rim of the jars so there is no jelly residue
Secure the lids with a band and place the jars in the canner.
Process the jars in boiling water for about 10 minutes.
After 10 minutes, turn off the heat and let the jars remain in the canner for 5 minutes before removing them.
Remove the jars and leave them undisturbed for several hours. and let the jars cool down.
For a deeper dive into canning, the National Center for Home Food Preservation has the most current details on safe canning practices.
Chokecherry Jelly vs. Jam
While jelly is made from the juice of the fruit, jam includes the pulp. Therefore, if you want a thicker, more textured spread, you may consider making chokecherry jam instead. The process is similar to making chokecherry jelly, except you include some of the pulp in the juice.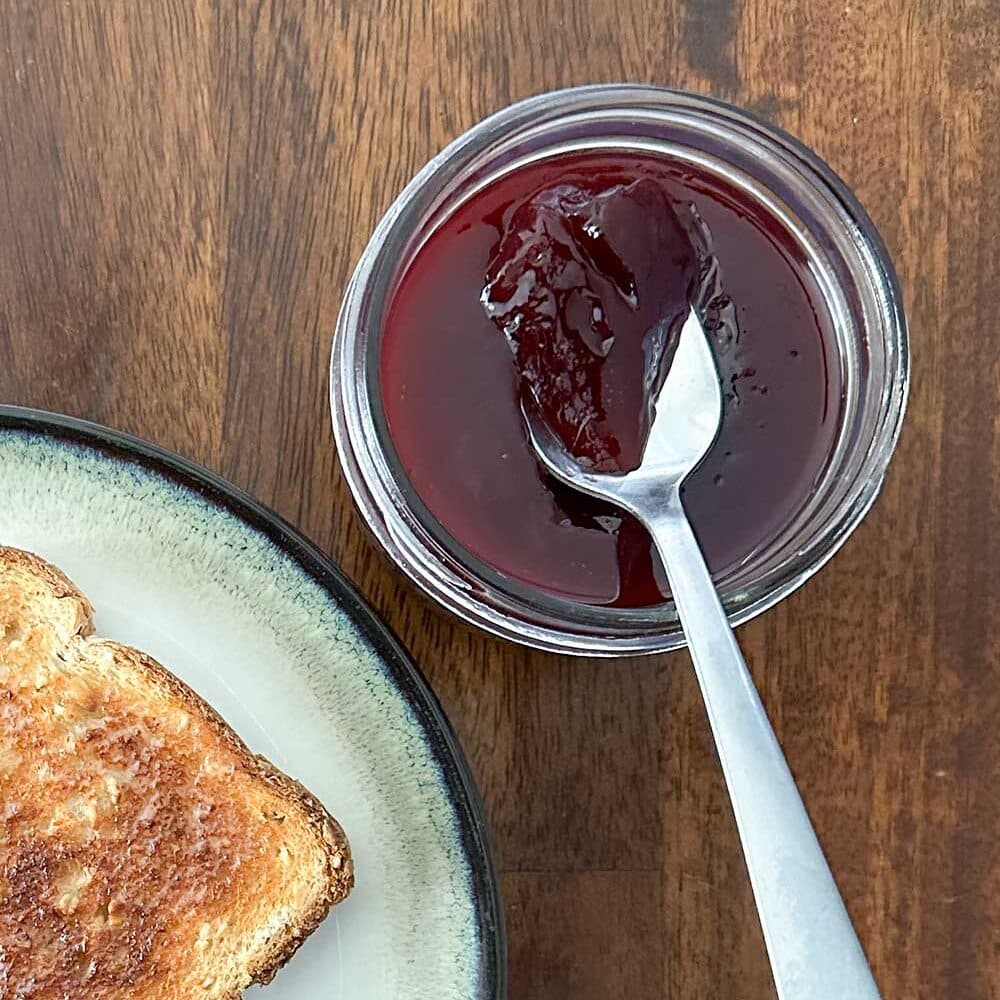 FAQ
Do I need to use pectin for my chokecherry jelly?
Chokecherries have a lower level of natural pectin. You may be able to find recipes for pectin-free chokecherry jelly. For best results with my jelly, please use pectin.
How do I store my homemade chokecherry jelly?
After canning, you can store your chokecherry jelly in a cool, dark place for up to a year. Once opened, it should be kept in the refrigerator and used within a few weeks.
Can I use chokecherries for other recipes?
Absolutely! Apart from jelly and jam, chokecherries can also be used to make syrup, pie, and even wine.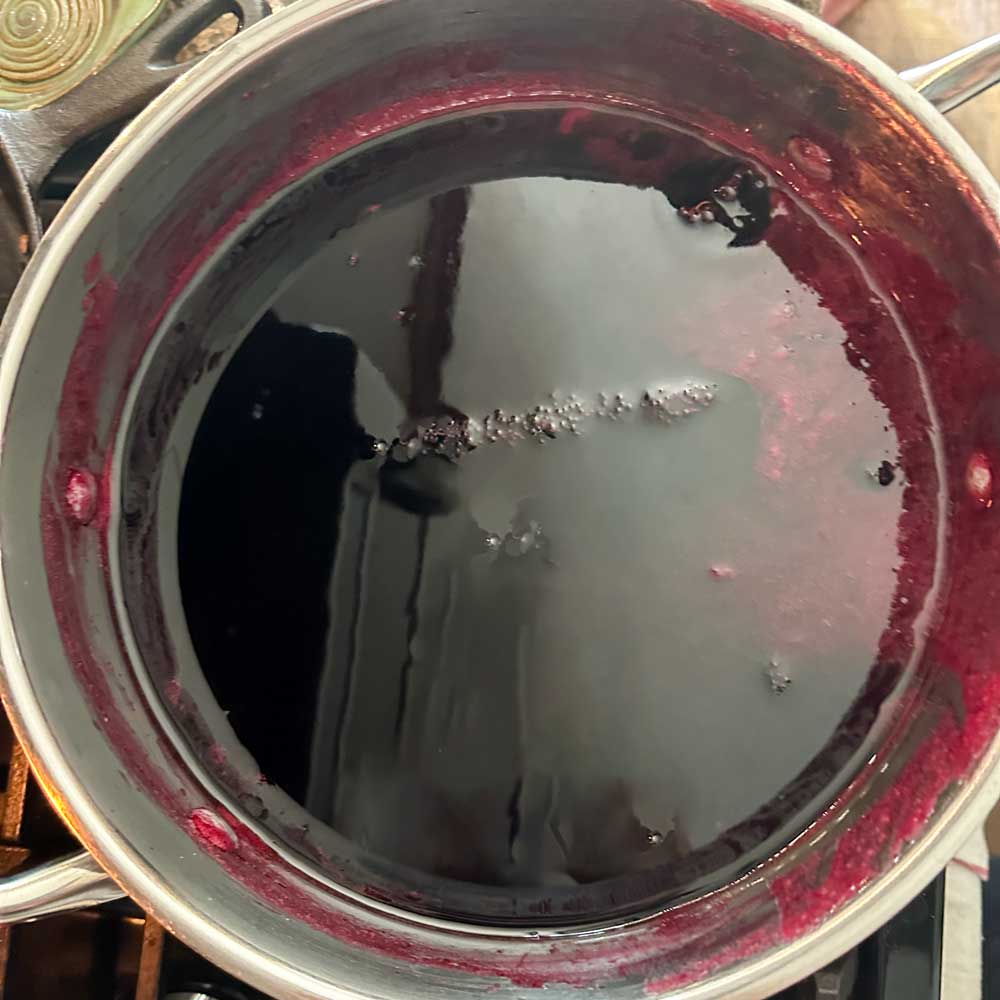 Why do jelly recipes call for butter?
The additional fat helps to cut down on the surface tension and results in less foam in your final product. If you are dairy-free, you may omit the butter completely.
Printable Chokecherry Jelly Recipe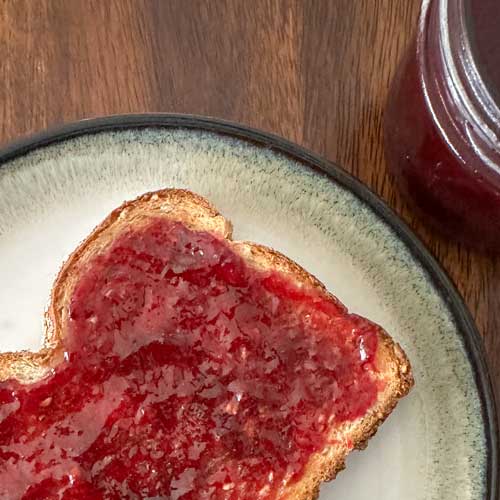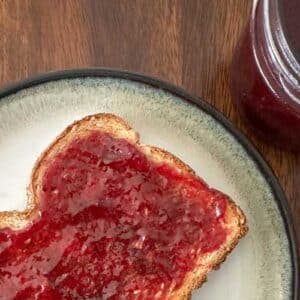 Chokecherry Jelly
This recipe requires 3 1/2 cups of chokecherry juice. If using a steam juicer for extraction, you may add up to 3/4 cup of water to extracted juice (adding water is not required though).
Pin
Print
Rate
Ingredients
3 ½

c.

chokecherry juice

1

pkg

Sure Jell, Original

5

c.

granulated sugar

½

tsp.

butter

1

tsp.

almond extract
Instructions
Measure out and pour your chokecherry juice into a large saucepan.

Bring juice to a hard boil.

Add pectin to juice, stirring constantly. Boil for 1 minute.

Add sugar and butter, boil for 1 minute.

Remove the saucepan from the heat and mix in the almond extract (optional flavoring).

Skim the foam off the top of the jelly and pour into jars.

Process in a water bath canner for 10 minutes.
Nutrition
Final Notes
Making chokecherry jelly is a super fun and rewarding experience. By following my instructions, you can easily make your own homemade chokecherry jelly and enjoy the benefits of home-canned preserves. If you're interested in some of my other jelly and/or jam recipes, check out my Rhubarb Jam, Frozen Blueberry Jam, & my Peach Pepper Jam recipes.
Happy jelly-making!