Holiday travel is upon us and it's time to share some car games for kids! If you're like us, you don't want your children to be glued to the DVD player or gaming devices the entire trek over the river and through the woods to Grandmother's house.
What's a parent to do?
I'm so happy to tell you there is an overabundance of options! Win!!!

Some of the ideas below are crafty and some need to be purchased.  The age range of these games varies considerably.  Maybe it's just my kids, but my older children liked the younger children's activities too…so I didn't even attempt to separate them by age-appropriateness.
I'm sure you'll find some great ideas to ease the boredom!
Games to Make
1. Button Snake
Simply cut some felt squares and put a slit in the middle of each one, (except for one of them). Sew some webbing or wide rick rack to the square that doesn't have the slit. Next, sew a button to the other end of the webbing/rick rack. Voila!
2. Velcro Building Sticks
This is super easy to make. Just buy some popsicles (you can purchase them dyed or dye them yourself) and add sticky-backed velcro to the ends. My kids LOVED this.
Beware. If you have a little guy that likes to make swords, he will make swords out of these sticks.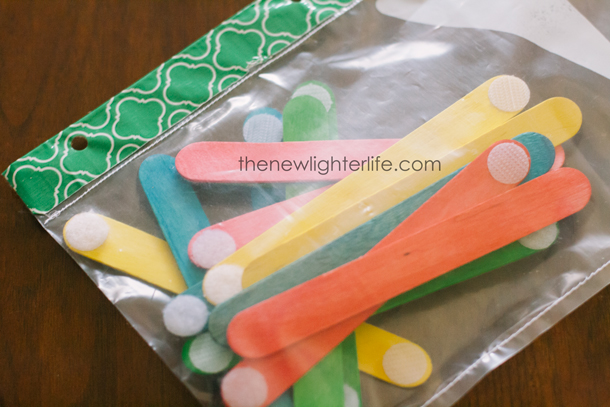 3. Color Swatch Matchup
Again, very easy to make. This was a bit challenging for my 3-year-old to match up.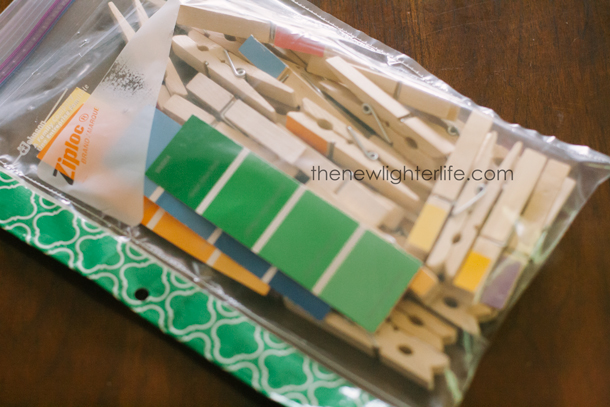 4. Keep the Coins by The Vintage Mother
The Vintage Mother's blog post no longer is published but the basic premise of this game is to give your children a little drawstring bag with a roll of coins. They can essentially be your "mini-bank" to give you the change you need and keep change from transactions. I love this idea! My children are always looking for gum money and the idea of keeping your change is motivating!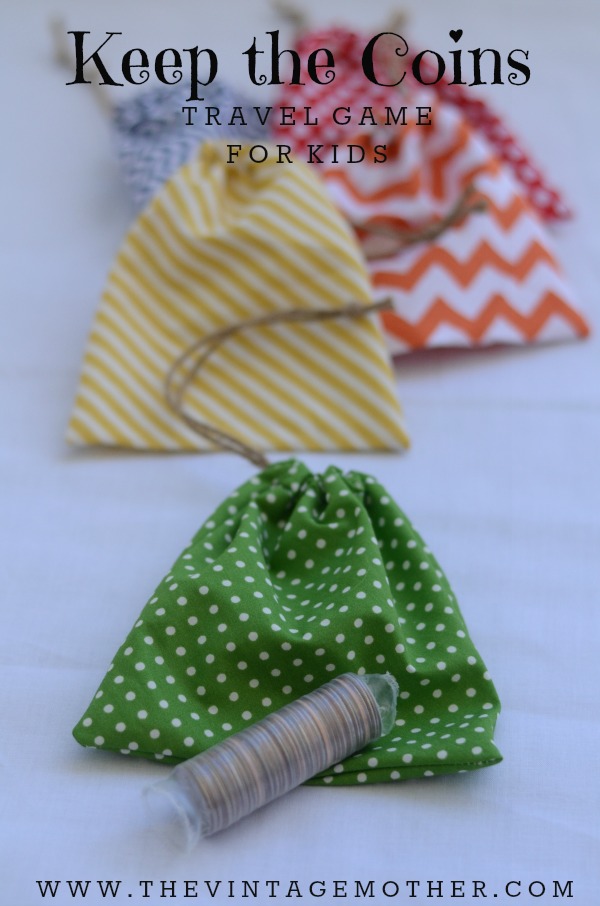 5. Pipe Cleaner and Pony Beads
Yep…for real. Just some pipe cleaners and Pony Beads and my 2 younger kids were entertained for at least 20 minutes.
6. Homemade Color (or Colour) Book by Craftulate
I LOVE this idea from Craftulate!!! We are road-tripping soon and this is on my to-do list!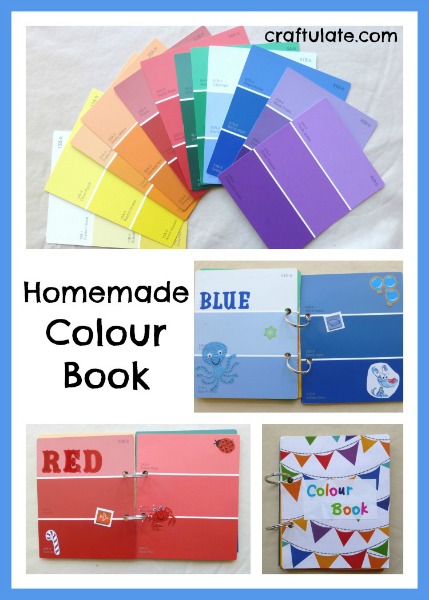 7. Crayon Roll
There are so many different options for making a crayon roll to hold a notepad. I whipped this puppy up in about half an hour, but you can find some inspiration and ideas to make your very own, here.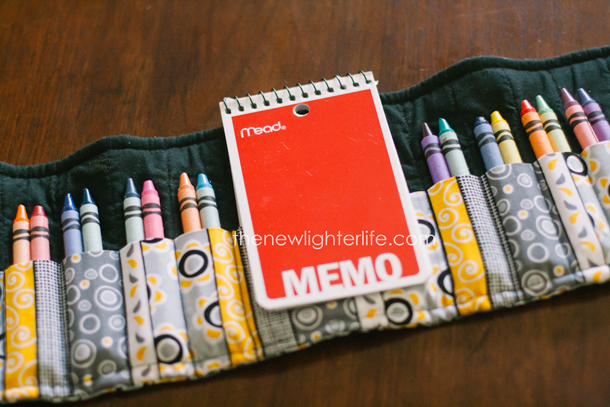 8. DIY Travel Geoboard by Left Brain Craft Brain
Wow!!! Seriously, this is so smart!!
9. Magnetic Tangram Puzzle by Delia Creates
10. Tic Tac Toe photo credit Canadian Family
11. Portable Lego Box by Fun at Home with Kids
Head over to Fun at Home with Kids and print the cards out!  If you need some random Lego pieces to be able to complete the puzzles, Bricks, and Minifigs have loose legos you can buy!  If you don't have a store near you, make up your puzzle cards, buy more Legos, or beg and borrow from friends.
12. Magnetic Peg People
This was such a fun little project!  I used a leftover Altoids tin to house our family.  Once I was done painting the people and spraying them with sealer, I added pieces of magnet to the bottom of them so they could stand on the tin during play. Sew a pillow and throw in a piece of fabric, and you have a bed for the family.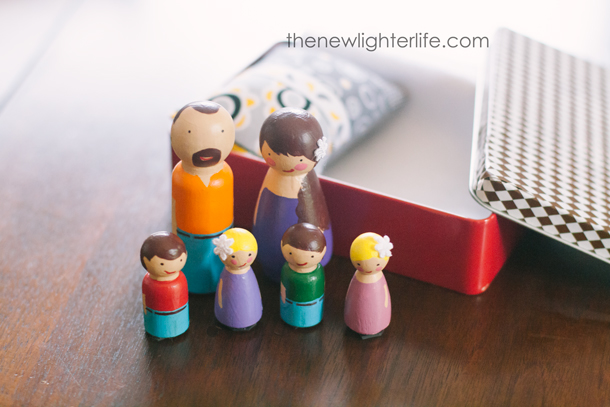 13. Friendship Bracelets
There are a whole bunch of instructions on how to make different friendship bracelet patterns, here. You can also search for printable friendship bracelet patterns and gather supplies for your little crafter.
Games to Buy
14.  Magnatab
This little board is mesmerizing!! As you "draw" the pen over the board, the beads come to the front. Love it!
15. Mad Libs
Fun for the kiddos and they get to brush up on their grammar.
16. These Water Wow books were a HUGE hit!!
You can buy them on Amazon and they have a whole variety of themes. Individually they are only about $5 so they are a great deal.
17. Lacing Cards
Take a few of these out and have a nice little travel-size project for the kids. We used different lacing cards but my kids enjoy doing this and it doesn't make a mess. Okay, truth be told – I attempted to make lacing photo frames but the laces kept getting snagged on the finished project so I now opt for the store-bought versions.
18. Doodle Pro is a classic travel toy. The bonus is that there is no mess.
I Spy but with cards.
20. Travel Memory
Since this is completely contained, there is no worry of losing pieces.
21. DryErase Dot to Dot
I also love reusable games and this DryErase Dot-to-Dot is perfect!
So those are some of our favorite car games for kids.  We ration out the games so they do not get bored as easily.  Also on a round-trip trek, we save some of the games for the return ride
How about you? Do you have a particular game that you absolutely love for road trips?