By now you might have gathered that I have a bit of a thing for growing and preserving green beans.  We always get a bumper crop of beans from the garden and pickled bean salad really hits the spot.  Today we're diving into canning 3 bean salad, plus I'm going to share with you my absolute favorite bean salad recipe.
We enjoy this salad during the summer but LOVE having it in the dead of winter as well.  By following my recipe for canning, you can enjoy it all year long as well.  And a bonus on this pickled recipe is that you do not need to have a pressure canner.
If you've ever tried storebought 3 bean salad, you might not have been a huge fan.  Personally, I think storebought is simply too syrupy and sweet.  My salad has a sweet tang but is not too sweet.
I usually save any pressure canned beans where the jar didn't seal properly and can them into bean salad.  Yes, it happens.  We all have failed jars.  Rather than reprocessing (which you can do) I recommend you try this salad.
Fresh, Dried, or Canned Beans?
All of your beans need to be precooked for this recipe and for canning.  Below is a breakdown, to include cooking/method and times.  You can see for all three types, I prefer to use my Instant Pot.
Chickpeas (Garbanzo Beans)

Canned – Simply drain and rinse your chickpeas before adding them to your brine.
Dried – To cook, do NOT pre-soak your beans since they have a tendency to get mushy if pre-soaked.  To pressure cook in the Instant Pot, cook on high-pressure for 45 minutes and natural release for 20 minutes.  You will notice a skin on the outside of your cooked chickpea.  While this is tedious, you'll want to remove the skin, (I recommend you recruit helpers).

Kidney Beans

Canned – Same thing as the chickpeas, simply drain and rinse before adding them to your brine.
Dried – To cook, do NOT pre-soak your beans, which can cause them to breakdown some .  To pressure cook in the Instant Pot, cook on high-pressure for 30 minutes and natural release for 20 minutes.

Green Beans

Canned – If you're in a pinch, you can use canned, just drain and rinse well.
Fresh – At a minimum, these should be steamed for 5 minutes on stovetop.  I prefer to steam in my instant pot as well.  Just place your rack in the bottom of your canner, add 1 cup of water, and lay your beans on rack. Cook on high-pressure for 0 minutes and quick release.
Bean Combinations for Bean Salad
You have options for different bean combinations depending on your garden, availability, or taste preferences.  Here are some ideas for you to mix and match beans for your salad.  Just remember that you want to end up with about 9 cups total of fresh beans and 7 cups of cooked (dried beans).
Fresh Beans
Green Beans
Yellow Wax Beans
Dragon Tongue Beans – these are my new favorite and easy to see in the garden
Long Beans
Dried Beans
Chickpeas (Garbanzo Beans
Kidney Beans
Black Beans
Lima Beans
Cannellini Beans
Black Eyed Peas
With that let's get into the recipe and canning 3 bean salad…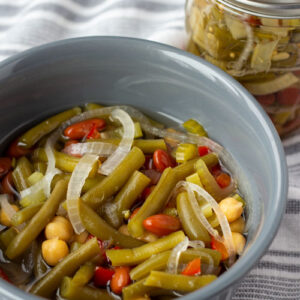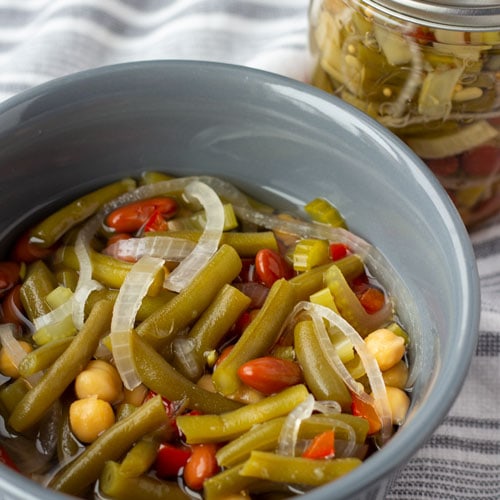 Delicious 3 Bean Salad - Canning
This refreshing pickled 3 bean salad recipe is the perfect flavor combination. It is tangy but not overly sweet.
Ingredients
9

cups

fresh beans

washed, trimmed, cut, and steamed

3

cups

garbanzo beans

cooked, or 2-15 oz cans

3

cups

kidney beans

cooked, or 2-15 oz cans

2

cups

celery

sliced

1½

cups

onion

sliced

1

cup

red bell pepper

diced and seeded
Brine
1 ¾

cup

white sugar

1

tbsp.

mustard seed

1

tsp.

celery seed

4

tsp.

pickling salt

3

cups

white vinegar

1 ¼

cups

water
Instructions
Prepare jars, water bath canner, and lids.

Place beans and vegetables in a large stockpot.

Add enough hot water to cover and let sit while preparing the brine.

Add all the brine ingredients to a medium pot. Bring mixture to boil, stirring to dissolve sugar. Reduce heat and gently boil for 5 minutes.

Drain the vegetables and pack them into sterilized canning jars, leave ½-inch headspace.

Pour hot brine into jar, maintaining the ½-inch headspace.

Remove bubbles with a skewer and stirring jar contents slightly. Add more brine if needed.

Wipe brim, place lid on top and screw on band to finger tight.

Process in waterbath canner for 15 minutes. Shut off heat and let sit for 5 minutes before removing from canner.
Nutrition
Serving:
0.5
cup
Calories:
170
kcal
Carbohydrates:
35
g
Protein:
7
g
Fat:
1
g
Polyunsaturated Fat:
1
g
Cholesterol:
7
mg
Sodium:
813
mg
Potassium:
305
mg
Fiber:
6
g
Sugar:
18
g
This recipe produces about 6 pints, but I've noticed it can vary depending on how tightly I pack my jars.  I had leftover brine on one batch and simply heated more vegetables and canned to use that up.
Easy peasy!  We've been enjoying this salad all winter long and definitely have this on our docket to can this summer again.
Do you have any favorite beans I left off?  I'd love to hear your favorites in the comments!