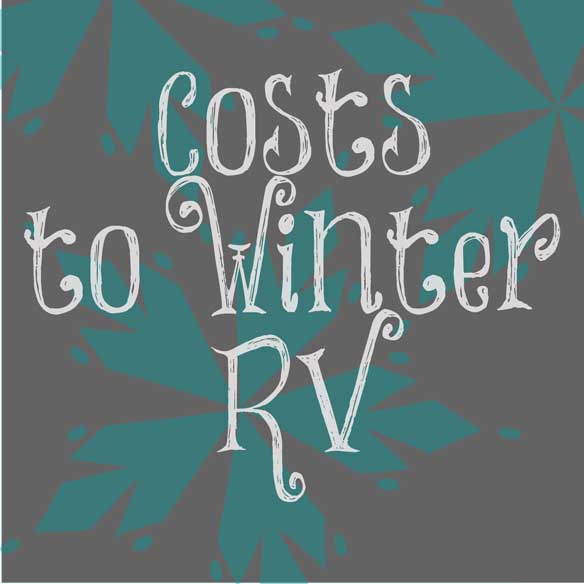 RV living is affordable. Maybe. But this winter, heating the RV has not been.
When we made the change from a regular sticks and bricks house to an RV, we anticipated that our living expenses would drastically go down.
Now that the dust has settled and we've experienced a normal winter month without going on vacation or having to buy vinyl skirting & fix frozen pipes, we actually have time to figure out how much it's costing us to live in the camper.
It's ugly I tell you. Like go into a corner and suck your thumb ugly. Not ugly compared to a mortgage or all that goes along with it. But ugly in that it's not been nearly as frugal as we expected.
To give you a snapshot, here are our expenses due to living in the RV this past January.
Site Rental – $170
Electrical Costs – $165
Propane – $240
Laundry – $65
RV Payment – $375
RV Insurance – $40
Now take into consideration that we'd have to pay for our water and our internet in our normal house. Still, the numbers are shocking.
Our site rental is unbelievably cheap! Clearly we have a heating problem (and possibly a laundry one as well). For reals. Our propane and electric cost us $405 this past month! Needless to say our camper is NOT energy efficient.
We go through a 25 gallon propane cylinder every week!
Propane Breakdown
We have the camper set at 70 degrees and it's fairly comfortable. Since we have little ones we keep the heat higher than we would if it was just Mark and I. The kids and I are home all day so we do very little adjusting to the thermostat.
I bake, but maybe only a few times a week. I don't think it's our big problem.
I really think the heating is the cause of our high propane usage.
Electrical Breakdown
Our electric is higher than we had hoped too, I think mostly because of 2 space heaters we run.
You see, the space heaters really cut the chill and focus the heat where we are in the camper. One is usually directed toward the living room slide area because it is draftier there.
We run the other one in the kid's bunkroom because it still can get pretty chilly back there, especially with their bathroom not being ducted and the outside door that leads to that same bathroom. Oh and their room has 2 slides, which means more draft. Our 2 youngest still take naps through the day so leaving their room without additional heat is not an option.
Our water heater does run off of electric and it's a 10 gallon. That contributes I'm sure but again, I think the space heaters are the main energy hogs.
Things are Looking Up
That's all we can figure on why our heat is costing us so much. Everything else was expected when we moved. The heating was huge variable that we were unsure of and we've had a colder winter this year than the last for sure.
So we're really excited to get into our new/old rig. It is a smaller space and (hopefully) better insulated but I'm not holding my breath. It only has 1 slide though and since so much air exchanges in the slide area, we're hoping for less drafts. We will NOT be skirting it though since we're almost through the bitter cold and also we read that it's not as necessary in a Class A.  We shall see.
By April we should be able to update what a full month of our heating costs in the Class A. But now you have a snapshot of what it costs to live in a 41 foot 5th wheel with 4 slides during the winter.