Today, I have a really quick post for you about updating RV hardware. This isn't our first rodeo in renovating an RV and we also replaced the hardware on our 1996 Winnebago Adventurer. Still, I wanted to share with you the latest information on what is available and some new RV-specific issues we encountered during the update.
Where to Buy Replacement Hardware?
Drawer pulls are nearly a no-brainer as far as replacing them. It is incredibly cheap for new pulls and they get so much use since hands are always grabbing handles.
Like before, we went to Amazon to find new drawer pulls for our camper. There are some super amazing deals on there if you need new drawer pulls!
We bought these drawer pulls and are really happy with the quality and look.
What We Did NOT Replace
Hinges – Like last time, our hinges needed to be addressed since they are visible when you shut the cabinet doors. In my mind, it makes no sense to replace hinges because your hands do not touch them and there is no concern about the paint coming off over normal use.
Bathroom Door Knob – This was a bit of a "necessity is the mother of invention" moment. We were actually going to replace the doorknob and we tried to find one that would fit. However, with the placement of the faceplate and length of the shank, it was nearly impossible. Y'all our doorknob in there is WEIRD. Because it is (clearly) a very specialized doorknob and I couldn't find a replacement, this was painted and reused.
Updating RV Hardware Painting Shortcut
The last time I traveled down this road, I went through the process of cleaning the hinges really well (in orange oil) before spray painting the hardware with Rust-Oleum metallic spray paint.
Just like I took some shortcuts with painting our cabinets and painting our walls in the camper, I took a shortcut here as well. I'm a bit of a rebel.
My shortcut – didn't clean the hinges. I live on the edge.
Now mind you, if you have a lot of residue on your hardware, you should probably wash them before painting.
Tips on Spray Paint & Application
This time around I used Rust-Oleum American Accents 2X Ultra Cover Metallic Spray Paint in oil-rubbed bronze. In Hindsight, matte black (that I linked) would have probably been a better choice, but honestly can't tell the difference.
The trick to good coverage on your hardware is to spray several light coats of spray paint and let the coats dry for at least 30 minutes between coats.
Spray paint screw heads. With a piece of cardboard, insert your screw into the cardboard with the heads up. Then apply light coats of spray to screw heads and they will match the newly sprayed hinges
Final Results of Updating RV Hardware
Here is a comparison of the before and after…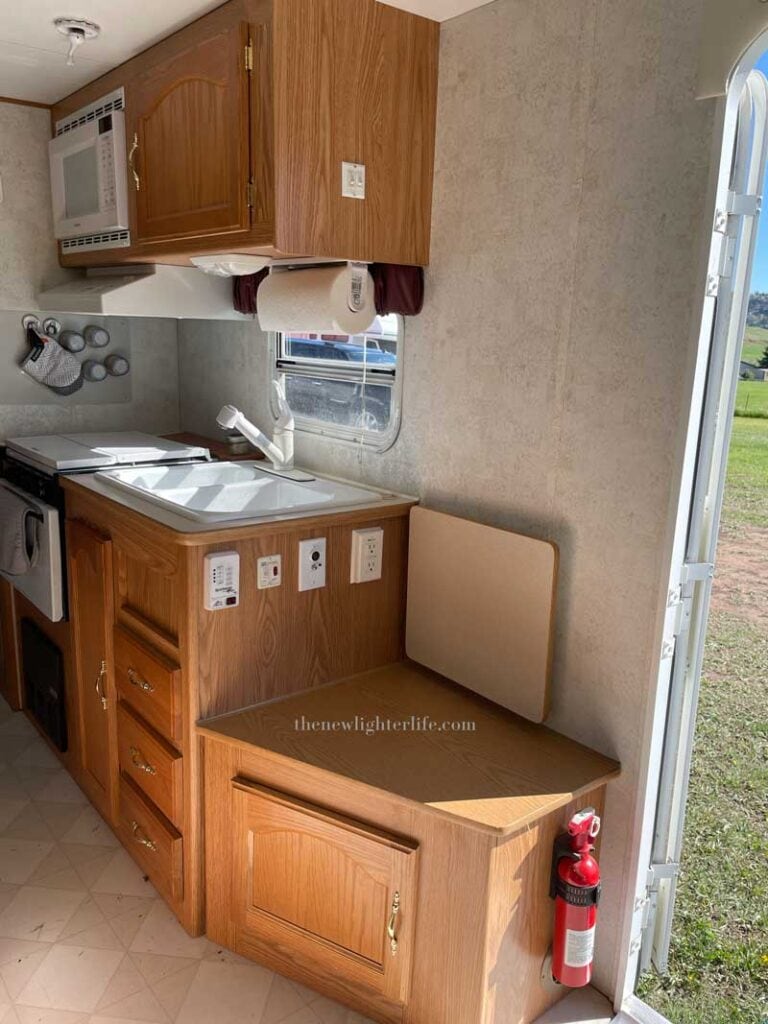 That's it! While there were a lot of updates with the wall paint, cabinets, and LVT flooring, you can miss the hardware update, which made a huge difference!