I'm so excited to finally share more of the updates we did to our 96′ Winnebago Adventurer.  I see the BIG REVEAL in our near future…very near.
But for today I'm going to share how we updated our cabinet hardware for less than $100.
Our cabinet drawer pulls, hinges, & struts were a sort of copper color.  They were old and dated and spoke the 1980s even though the camper is a 96′.  Let's just say they were ugly.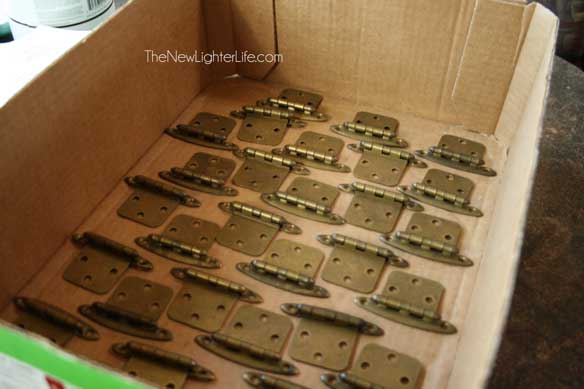 The cabinet painting that we did really dictated that we needed to update the hardware. On deal sites, I had read about buying new cabinet and drawer pulls off of eBay.  But surprisingly, I found this super deal on Amazon. *EDIT* No surprise, the pulls I originally bought are no longer available. When looking for the pulls, I came across this pack of 25. They are so sleek and modern!
The price was right too! In reality, the price seemed too good to be true and I wondered if the quality would be low. But they are very nice! I can honestly say that we would still be extremely happy even if the pulls had cost us triple what we paid.
For one 10-pack, it costs just under $20. We had to order 4 packs because our RV has gobs of cabinets and drawers.
So we had figured out a solution for the pulls but still had hinges and struts to contend with.  (Struts are those little levers that hold overhead cabinet doors up so you don't bonk your head)
I REALLY didn't want to buy new hinges. The existing hinges were perfectly fine, they just didn't match. Since they were not hidden hinges, we needed to do something about them so we opted to spray paint them.
How We Spray Painted Our Hardware
1. The first step in the process is to clean them really well.
This is important! Don't skip this step. Mark actually found a stray hinge and tried spraying it without cleaning it first. It was a mess and we ended up stripping it down to start over again.
My cleaner of choice for this type of job? Orange oil.
In case you didn't know, I LOVE orange oil.
Have you ever seen My Big Fat Greek Wedding? Remember the guy who was obsessed with Windex?? He used it for everything. Well, that is me and orange oil. I used it to clean the labels of those containers for bulk storage. It's great for cleaning nasties and cuts through grease and build-up.
I soaked the hinges in orange oil and a little bit of water for about 10 minutes and then wiped them clean with a microfiber cloth. Easy. And no elbow grease.
* You can buy larger quantities of orange oil online or from greenhouses. I bought mine from Garden Ville in Texas and it's lasted me several years.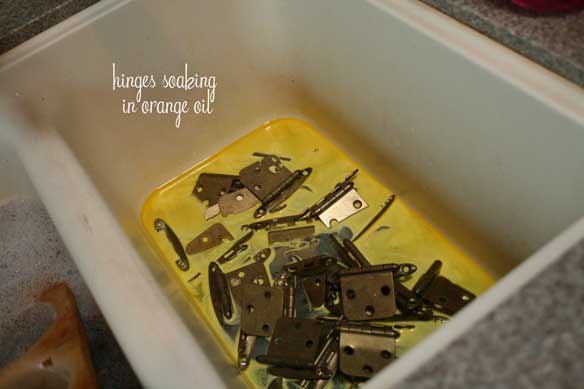 2. Next, spray the hinges and struts with a thin layer of Rustoleum's Metallic spray paint.
**The key here is to spray 2 to 3 thin coats of paint.  If you spray too heavily, it will run and be a junked-up mess.  Don't spray heavily, take it easy, and apply a few coats. Let the paint dry for about 15 minutes between coats, flip them, and do it all over again.
3. Buy new screws to match your metallic paint. Just do it. It's easy and you don't need to mess with painting screw heads.
In choosing the paint, I actually followed this website's tip (which I found on Pinterest). I didn't try any other paint. Rustoleum worked perfectly.
Here is a snapshot of our updated hardware. I know it's not the BEST picture but I'm trying to do a big reveal so I don't want to show you too much.
From the picture, you can see it looks clean and classic rather than dingy and dated. I love it and it was very cost-effective for us to do. This update cost us just about $100 and made a huge difference.
I'd do it again, in a heartbeat!