I might be obsessed but I'm estatic that a Trader Joe's opened up closer to our home!  Today I'm sharing some of our Trader Joe's Fall Haul.
We have our favorites and seasonal (Fall) items we decided to try out.  Here's just some of what we got…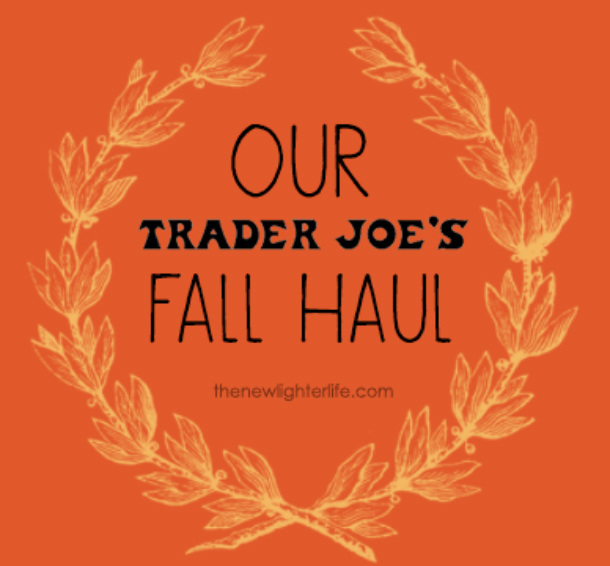 Fruit Bars
These babies are just fruit and NOTHING else! Love them! They also have an Apple Coconut bar…that one is NOT a favorite of our family.
Candied Ginger
My kids LOVE the candied ginger! They are sweet and spicy!  We use these for a candy treat, upset stomach, or for holiday baking.  Oh and they are SUCH a great deal per oz compared to your regular supermarket!
Pumpkin Spice Rooibos Tea
Mmmmm….pumpkin!  I'm not a huge tea drinker but I enjoy this seasonal tea (and I'm a sucker for a cute tin).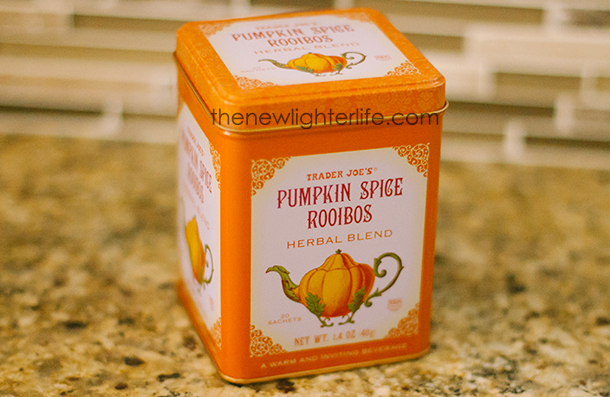 Crushed Garlic
I just discovered this little gem and I'm happy with how it flavors our food.  I cook a lot with garlic and I have a nifty little Pampered Chef press for fresh garlic, but this makes cooking with garlic SO much more convenient.  The 2 ingredients in the crushed garlic are Citric Acid and Crushed Garlic.  I love simplicity of ingredients.
Cinnamon Graham Crackers
We've been getting this little crackers for a while.  They are totally old-fashioned and yummy!!  One day, I'll be supermom and make homemade graham crackers.  Until then, these will more than suffice.
Green Fin – Cocobon – Benefactor Cellars – Dark Horse
I'm not a connoisseur of wines but here is my take on these 4 wines all in the "cheap wine" price range.
Green Fin – This Cabernet Sauvignon is an okay wine.  Nothing to go crazy about but it is suitable in my opinion. I'd buy it again especially since it's only $5!
Cocobon – I bought their Red Blend and I LOVED it!  Loved it!  I HIGHLY recommend it and I'll buy this one regularly, (it was only $7)!
Benefactor Cellars – I'm not a wine expert but I know a terrible wine when I drink one.  Benefactor Cellars ~ Cabernet Sauvingnon is a TERRIBLE wine!  Terrible!  I never throw wine away…but I don't even think this one is suitable for cooking.  I should have noticed there was a screw cap which is pretty much a sure sign that a wine is less than par.  Listen to the skeleton pirate below!
Dark Horse – Uh -yeah this was a big winner!  $8 and relatively smooth!  I'd still choose Cocobon over this one but this was a close 2nd place.
Ginger Cats Cookies for People
Again…we got ginger thing going on here. These are a nice treat for my little people.
Macaroni & Cheese
I debated about including this macaroni and cheese.  Seriously. it's mac n cheese and not a complicated food.  To justify this inclusion, I must tell you that my kids eat mac & cheese about once a week.  They don't care for the Annie's brand which has better ingredients (though more clumpy to make) than Kraft. But they liked Trader Joe's macaroni and cheese and it's only $1.  Win!
Pumpkin Cereal Bars
This were just okay.  A little too sweet for our tastes honestly but good flavor in-spite of that.
Dark Chocolate Coconut Caramel
Yum!!!  Have gotten this for a while now.  Very good chocolate with crunchy coconut in there!
Pita Crisps with Cranberries and Pumpkin Seeds
These are REALLY good but our dipping choices are pretty limited right now.  I think they'd be great with some sort of cheese ball…but my creativity is lacking to pair them with something deserving.

Goddess Dressing
Ever tried to find a salad dressing without sugar?  It's tough but I'm happy to report the Goddess Sauce doesn't have sugar.  I'm not 100% sold on it yet, it's pretty tart.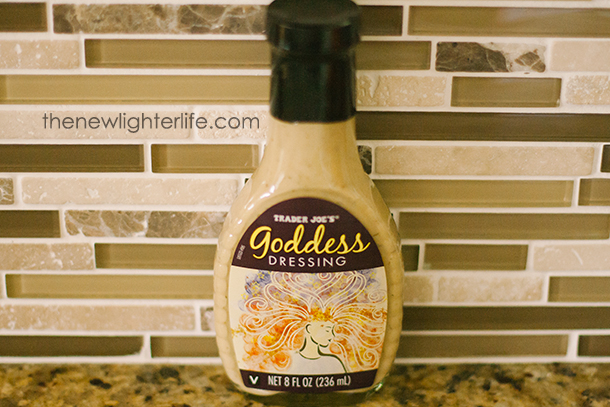 Popping Corn
Love non-GMO popcorn.  Win!

Fluoride Free Toothpaste
We generally avoid fluoride.  This toothpaste is less than $3!  Yippee!!
Halloween Joe Joe's
FYI – these are NOT Oreos. But for a store-bought Oreo substitute these fit the bill wonderfully!
Dark Chocolate Peanut Butter Cups
These have been a favorite of ours for a while, creamy peanut butter…mmmmm.
Onion Bagels
Now if you compare these to fresh from the bakery bagels, you'll be sorely disappointed.  But compared to other shelf stable bagels, they're pretty good.

So these are just a few of the things we've been buying.
And of course, Trader Joe's doesn't know me nor have they ever heard of me.  I'm just sharing what works and doesn't work for us from Trader Joe's.  How about you all?  What are some of your favorites from Trader Joe's that I missed out on?