We love this homemade dressing.  It is creamy, tangy, and amazing!
Mark had always been a die hard French and Ranch dressing guy until he tried this dressing.  Now this is all he'll eat.  It is that good!
My favorite salad combo for this dressing is Romaine lettuce, red onion, tomatoes, pepperoncinis, & kalamata olives.
Ingredients
1/3 c. vinegar
1/3 c. mayo
1/3 c. olive oil
4 T  grated Parmesan (has to be real Parmesan)
1/2 tsp parsley
1/2 tsp italian seasoning
1/4 tsp salt
1 tsp sugar
1 tsp garlic
Directions
Place all the ingredients into a skinny bowl or the blender.  Blend on high in blender or with an immersion blender.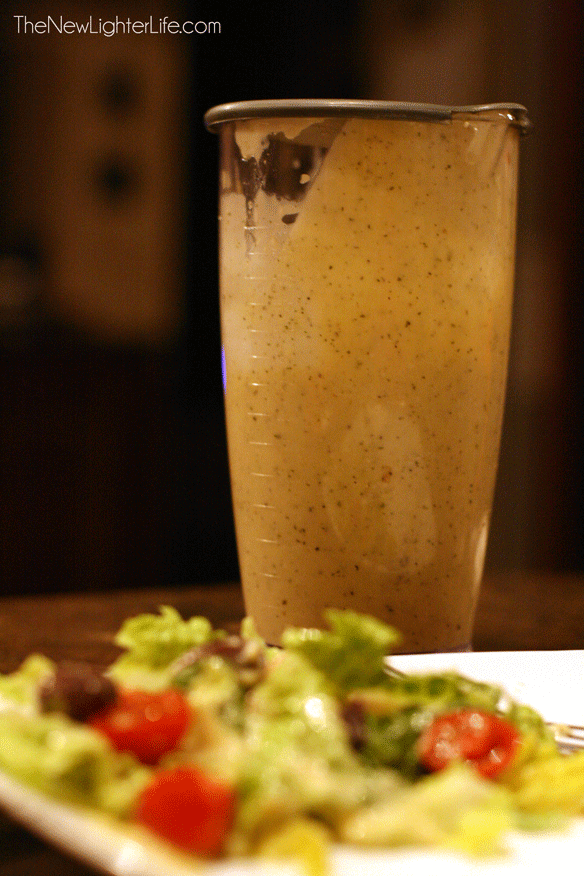 My stick/immersion blender came with this nifty cup and lid.  We keep the dressing in here constantly, as soon as we run out I make more.
This dressing can get a little thick once it's been in the fridge.  I scoop the dressing into the main salad bowl, mix, & serve.
Do you make homemade dressing?  I've tried several ones for Ranch but they just don't taste as good as Lighthouse's Homestyle Ranch.
This recipe has been linked up to the Old Fashioned Recipe Exchange on Little House on The Prairie Living