I'm so excited to announce a giveaway on The New Lighter Life!!  Hang on for details, but first the product….
I use to drink Crystal Light like it was going out of style.  Turns out it was…because many people figured out that Aspartame is all sorts of bad.  Once that revelation came, I ditched the Crystal Light and pretty well gave up on the idea of a flavored water that was super-convenient.
But today I'm so excited to share a new stevia product.  These handy little bottles of stevia-sweetened Flavor Drops are so easy, you just add several drops to your water to taste.
No Aspartame or artificial sweeteners in these babies…just organic stevia.  And they're perfect for the Trim Healthy Mama eating plan!
There are 4 flavors of these Sweet Drops:
Strawberry Kiwi
Lemon Lime
Peach Mango
Raspberry Lemonade (my personal favorite)
I've tasted them all and they are refreshing and light.  I'm a fan!
Now The Giveaway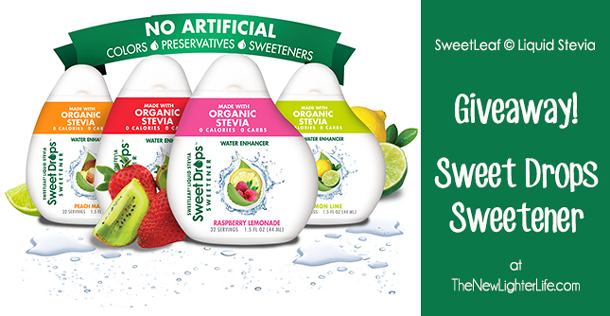 I am giving away 4 full-size bottles of the Sweet Drops!
To enter this giveaway, follow the Rafflecopter form below!  Good luck!