We're stocking up on necessitates for the move into our stick-n-brick home.  One of our necessities is sheet sets.
So I set out to figure out how to save money on them…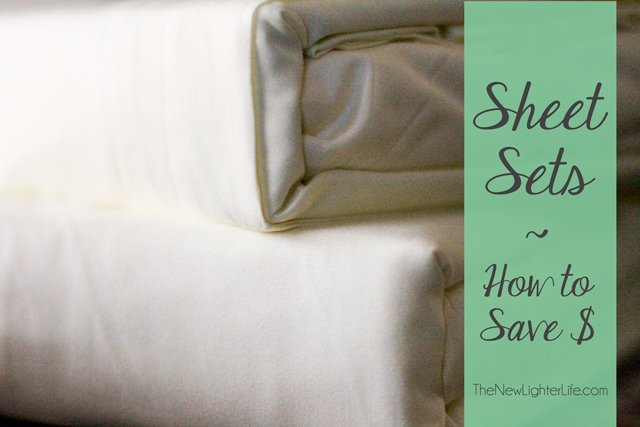 Black Friday
I'm not a fan of Black Friday (and I know this should have been posted before Thanksgiving) but I was able to score some afternoon deals at Macy's for some sheet sets for the kids for $12.00.  They aren't 100% cotton but they are soft and they were a bargain!
January White Sales
Most stores offer large sales on sheet sets (and towel) in January.
February Clearance
Target is my favorite place to scrounge for clearance and their linens will be clearanced in February.  Oh yeah inside end caps…come to mama!
IKEA – Everyday
Sheet sets here start out at $19.99.  This is the normal everyday price and the price doesn't beat my Black Friday sale, still they're pretty economical.  You could even save more if catch a sale or join IKEA Family.
Get Crafty – Sew a Fitted Sheet
My kids refuse to use a top flat sheet and previously I showed you how to sew a fitted sheet from a flat.  It's come in handy.  Instead of cutting the corners out, I left them completely intact.  At some point, they may learn to use a flat sheet and all I will need to do is take out the elastic with a seam ripper and I have a complete set again.
Figure Out What's Important
Thread count.  Fibers.  Weave-type.  It get's confusing fast!  Figure out what matters to you.  If you're a little more particular about your sheets the best value for you is to spend more money for the right quality set.  This post from Get Rich Slowly is very helpful for deciphering the different quality of sheets.
So that's how we save money on this necessity.
I hate jersey cotton sheets, like really hate them.  They are WAY too clingy.  If you have a particular brand/type you're loyal to or love, I wanna know.  And if you love jersey cotton sheets…sorry to rain on your parade.