We're still around friends!  I've so wanted to update the blog, but we had a terrible bout with the flu. Our little guy was hospitalized but is all better, thank you Jesus!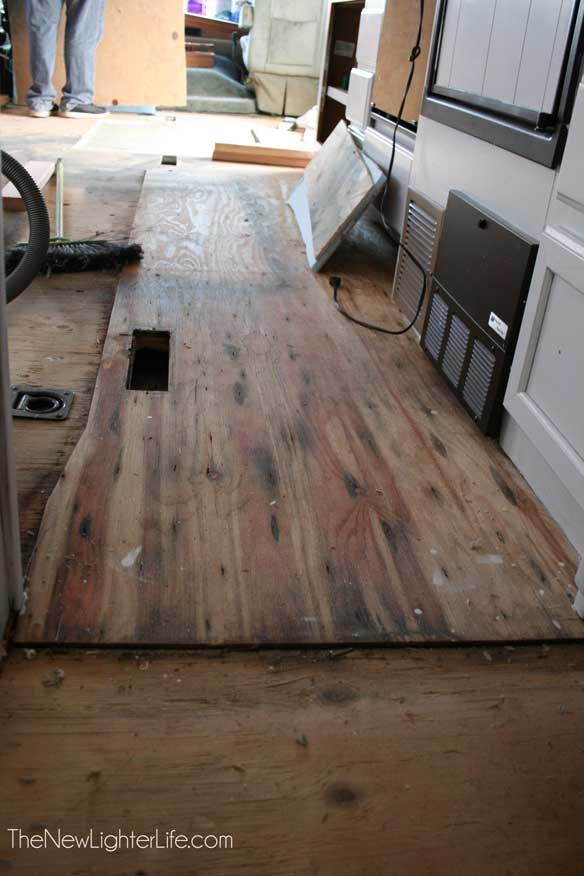 After we got over that hurdle, we got busy on the RV remodel.  It looks AMAZING and I can't wait to share the pictures and more details about what we did.  Above is a teaser.
I'm happy to share that it doesn't look like this anymore!
But in the meantime, a wordy update will have to suffice.
I've been busy painting cabinets, sewing curtains, and reupholstering the booth dinette cushions.
Mark took some time off work and demo'd the camper.  He had to do some work to the subfloor and is finishing up painting all the walls and cabinets.
Let me just confirm that perspective changes radically based on what you're doing.  When you're trying to fit everything in a small space, it seems like there are just not enough cabinets.
Painting cabinets?
There are far too many of those babies.  Oh but it looks so NICE now and I think it's well worth the time spent on them.
So here's where we stand on what's left to update.
Our Running To Do List:
Build Bunk Beds – Mark has a pretty cool design planned that will allow for the bunks to be lifted for more playroom during the day.
Outlet Update
Replace Toilet
Trip to Ikea for Sofa Bed – After over 6 years of waiting, I'm planning on making my very first trip to Ikea this coming weekend.
Update Light Fixtures to LED – This is somewhat costly, so we'll do that as we go.
I'm still not giving up on my tankless water heater, resurfacing the outside of the rig, or the vac system kick plate.  But with all we have going on, those are not at the top of the list.  I also would love to sew quilts for the kid's custom bunk beds, but the curtains are taking me longer than I expected so I may just make duvets for their beds.
I'm not sure why these kids keep expecting to be fed all the time!  But I'm proud to report that Eliana and Eli managed to make chocolate chip cookies yesterday so they aren't totally deprived.
So that's it for a not so quick update.