Alright, friends! Today I'm sharing with you my favorite homemade shea butter lotion recipe. This recipe has been a longtime staple for us. More recently, I've updated my recipe to include shea butter and it is heavenly!
In case you didn't know, storebought moisturizers are often full of petroleum, mineral oil, and other nasty ingredients that actually suck the moisture out of your skin. Dishonest marketing, right??
Because of the nasty ingredients, I switched to homemade lotion many years ago.
It is technically Spring up here in South Dakota. But it's still cold and dry. This is NOT normal for the Black Hills which is generally milder and not nearly as snowy. But one thing is for sure, my skin has been begging for more from my homemade moisturizer.
For years, I've used cocoa butter in my moisturizer. Due to the overall low humidity here, I started researching ingredients more thoroughly to see if I was missing anything. Turns out I was!
Don't get me wrong, cocoa butter has some fantastic benefits. But I've really missed the ball on not using shea butter. Before I get to my recipe, let me explain the benefits of both kinds of butter so you can make sure you're picking the right one for your skin care needs.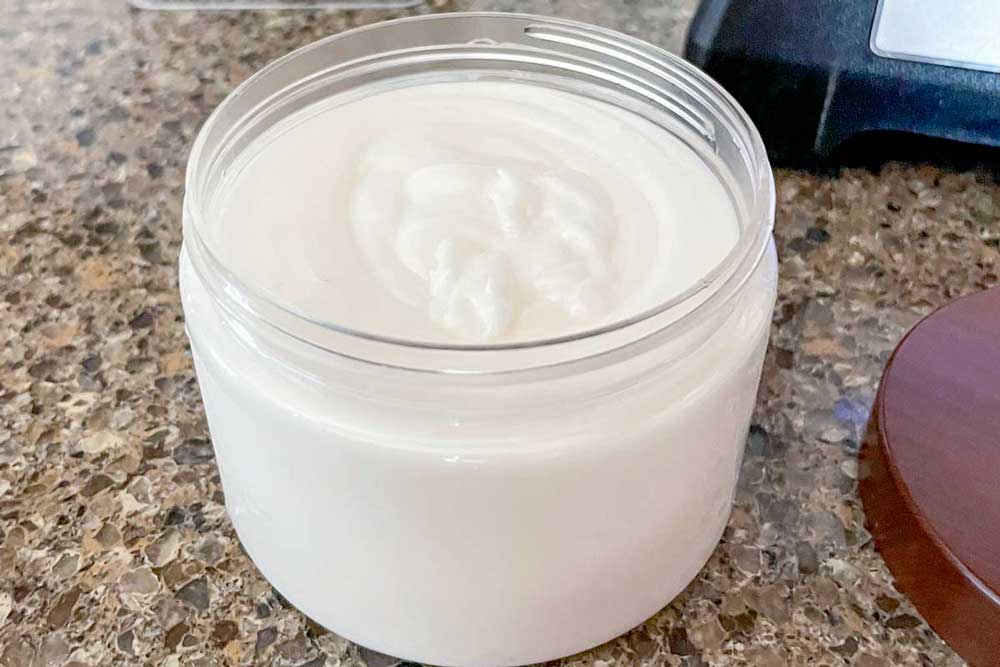 Benefits of Both Cocoa Butter and Shea Butter
Emollients that help stop water from evaporating from your skin, (from WebMD).
Plant-Based
Contain fatty acids
Vitamin A is known to help with the following, (from Healthline):

scars
blemishes
wrinkles
stretch marks
age spots
psoriasis

Vitamin E benefits, (from Cleveland Clinic):

antioxidant
moisture retainage
protects cells from damage
softens skin

Anti-inflammatory
Shea Butter Benefits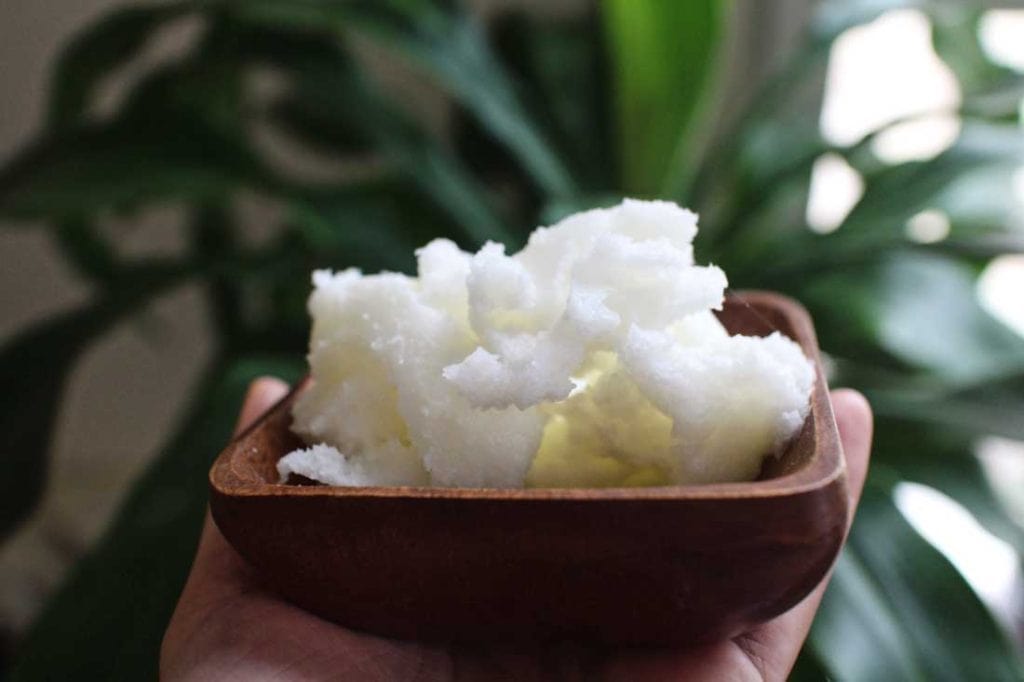 ---
linoleic acid – is known to help with:

blemishes
wrinkles
atopic dermatitis
psoriasis
UV rays (only about 3 to 4 SPF)

latex

raw contains latex
consider refined if allergic

anti-bacterial properties, (from Cleveland Clinic)
may clog pores

consider limiting if you are more prone to acne
As you can see above, shea butter has so many benefits. But there are two items on my list of shea butter-specific properties we should talk about more.
Latex. Though shea butter does contain latex, there is no guarantee that you will have a reaction if you have a latex allergy. My oldest daughter is allergic to latex and uses my homemade shea butter moisture without any reaction. Zero issues in fact. The shea butter I use is raw too. So all this said, depending on the severity of your allergy, you may want to use refined shea butter.
Acne. I want you to be fully informed about what my research revealed and several sources (at the bottom of this article) stated that shea butter MAY clog pores. In my view, the amount of shea butter for this recipe will not likely cause any issues. My anecdotal evidence I have 3 teens who have had some normal teenage acne. When I switched to shea butter instead of cocoa butter, their blemishes did not worsen.
I realize I only have anecdotal evidence for the latex and acne assertions, but I wanted to share those with you if you are concerned.
Other Homemade Shea Butter Lotion Ingredients
Now that I've sufficiently beat the dead horse on shea butter, I want to just talk a wee little look at the ingredients in my lotion. Many items can be purchased at your local store. Just keep in mind that the higher the quality (without extra ingredients) the more nourishing your lotion will be
Equipment to Make Homemade Shea Butter Lotion
You will just need a few tools to make your lotion.
A scale – I use my food scale so much and I would be lost without it. I will also give you volume measurements but the scale is so much easier for solids such as beeswax, shea, or coconut butter.
A blender – you can use your normal kitchen blender, food processor, or even an immersion stick blender.
A double boiler – if you don't have a double boiler, you can set up a makeshift one with a small metal saucepan and a metal or glass bowl resting on top (not touching the bottom of the saucepan). Fill your saucepan with a few inches of water and be sure the bowl you place on top does not touch the water. Boil your water. Do not use a microwave to heat your fats since that will destroy some of the benefits of your ingredients.
Spatula – you will need something to scrap down the sides of your blender container
Storage jars to hold about 1 1/2 cups of whipped homemade shea butter lotion. 4 oz canning jars work great for this jar works great for this.
Without further adieu…here is the recipe.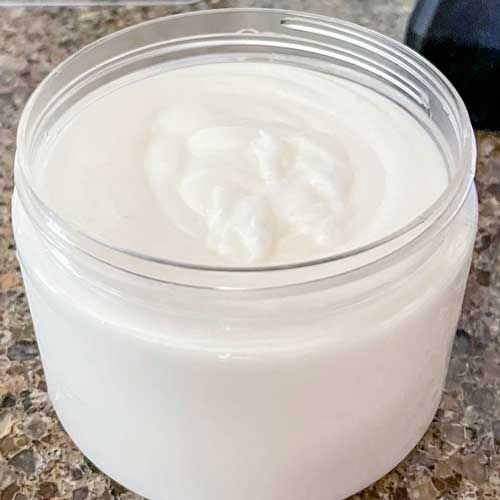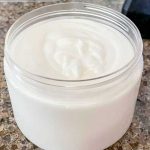 Print
Homemade Shea Butter Lotion
This rich and non-greasy lotion is my favorite to use daily for my face lotion or even as a high-quality body lotion. The shea butter amps up the moisture-retaining properties. For the essential oils, I like the combination of 8 drops of lavender essential oil and 2 drops of germ fighter essential oil blend.
Equipment
double boiler

food scale

blender, food processer, mixer, or immersion blender

spatula

4 oz storage jars
Materials
1

c.

aloe vera gel

1

tsp.

vitamin E oil

10

drops

essential oils

21

grams

beeswax, grated or chopped

or ¾ ounce

½

c.

almond oil or grapeseed oil

14

grams

shea butter

or 1 tablespoon
Instructions
Set up your double boiler and begin heating your water.

Place your beeswax, almond or grapeseed oil, and shea butter on the top of your double boiler. Stir periodically and heat until melted.

While your solids and oil are melting together, mix the aloe, vitamin E, and essential oils in a separate pourable bowl. I like to use my 3-cup measuring cup for this since it has a spout. Set aside.

Once your shea butter and beeswax are almost completely melted, shut off the double boiler and stir until completely melted.

Pour the melted mixture into your blender or a narrow and tall bowl (if using an immersion blender). Let hot oil/wax cool slightly and to a milky consistency.

While blending at a low speed (or pulsing with an immersion blender) slowly pour in your aloe mixture. Periodically stop blending and scrape down the sides.

Blend until your lotion is an even creamy consistency.

Pour your lotion into jars. Enjoy!
Who needs to buy store-bought moisture with how easy this one is to whip up? I use this every morning and night as part of my skincare routine. I hope you love it too!
If you're looking for some other homemade products, you may want to check out my homemade baby wipes and makeup remover wipes.
Blessings!