The great thing about Pinterest is how it motivates.  Motivation to try a new recipe or follow a tip.  These are some of my favorite pins from the past few months if you want to check em out.
Perfect Salmon by Pioneer Woman – Perfect.  Truth.
Triangular Folded Grocery Sacks – Ummm, I HATE the grocery sack dilemma.  I hate having a bunch of scrunched up grocery sacks and I love this tip.  On the surface, it seems a little over the top.  But oh it made my heart happy to see all my triangular grocery sacks neatly tucked inside the box I store them in.  And I have bought reusable grocery bags but without fail, I forget them.  That is something I'm working on.  For now, I have a neat way to store the plastic sacks and reuse them.  And it is the perfect job for the kids while I put away groceries.
Sugar Cookie Bars – Oh my word, I love these and have made them several times!!  I made them recently when I got together with friends. They are a favorite.  The only thing I change on these is I sub in almond extract instead of vanilla extract for the frosting.  These taste very much like Eileen's Colossal Cookies but better.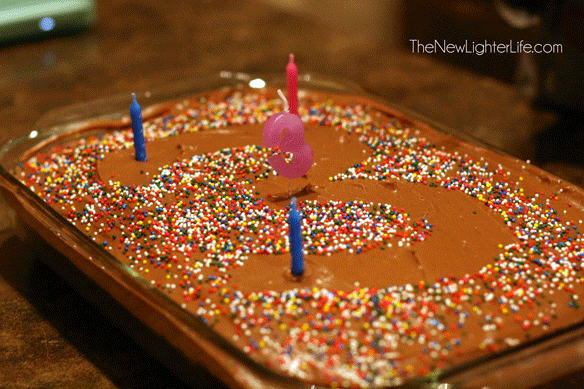 Sprinkle Birthday Cake – A few months ago, we celebrated Eva's 3rd Birthday.  I wish I would have loaded up her cake more with the sprinkles but this was a cute and easy idea.
And if you want to follow me on Pinterest, you can here.  Do you have any favorite pins you care to share?  I'd love to know what gems you've found recently!