Remember my cheap organizing containers that I repurposed from cashew containers I bought at Sam's?  Well, I never did end up putting those printable labels on them.  I had concerns about how durable the labels would be just modge podged on there.
I decided I wanted the flexibility of being able to change out the contents if necessary without reprinting and adhering new labels.
To be honest, I'm sure I spent way too much time thinking about how it would work best.
Somewhere in the rabbit hole of Pinterest, I saw a pin about using chalkboard paint to spray adhesive labels.  Then you use a chalk pen to write the contents.
It was the perfect solution.
Wanting to avoid the mess of actual chalk, I opted for chalk pens.
The spray paint I bought was your standard, Krylon Black Chalkboard Spray Paint.
Now the labels were the best part.  I was shopping at Dollar Tree, (that store has some great stuff).  I came across these wall decals…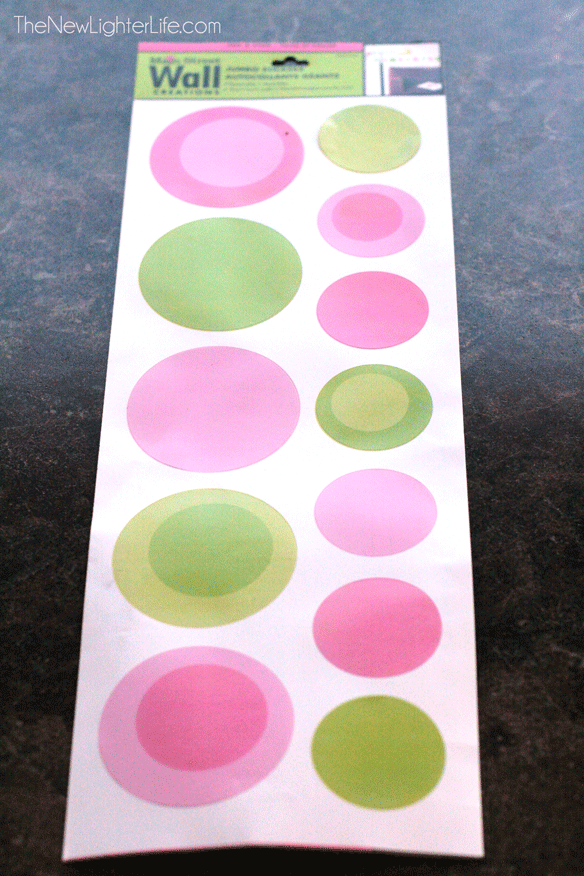 There are actually 24 circles in the pack and the whole pack was $1!
If you are looking for a substitute, you can buy these circle stickers which can also be used for canning labels.
To make my medallions chalk, I simply spray painted the decals and let them dry for about 20 minutes.
The chalk pens were great to work with, but I'm thinking smaller-tipped ones like these would work better for thinner writing.
So here is the end result…
It worked beautifully and I couldn't be more pleased with how they turned out. The writing does not rub off when you touch it, (after it dries of course).
To wipe the writing off, you just need a wet paper towel. I did read the reviews and some people said you needed to use nail polish remover but I didn't find that to be the case.