One thing that can be a burden while living on the road is dealing with routine medical care.
In the case of an emergency, you go to the hospital.
For non-emergency issues, we try to treat the problem at home before heading to the doctor.  So when our Eva had a plantar wart on her big toe, I sought out a home remedy to remove it.
I dreaded the thought of bringing her to the doctor to have her wart frozen off.  If you've never been fortunate enough to have a plantar wart frozen, you just don't understand how painful the process is.
Aside from the standard over-the-counter wart medication, I came up empty handed….until I remembered Black Salve.
Black Salve
I remembered some of my friends posting nasty looking pictures of suspicious moles removed by using black salve.  I couldn't find anything about using it on plantar warts.  Since I read that it works on regular warts, I decided to go for it and try removing her plantar wart.
The main ingredient in Black Salve is bloodroot, some people are not comfortable using bloodroot (which is an herb).  Since she wasn't going to be ingesting bloodroot and we were going to be using it very short term, I decided the risk was insignificant.  The black salve I bought was through Virxcan.
Now keep in mind should you scroll down, this isn't pretty but it's about Eva's wart and it's death.  Trust me, don't Google "black salve moles."  It'll make you woozy because it looks so completely nasty while the salve does it's job, but it's effective.
My pictures are not nearly as graphic but consider yourself forewarned.
Below is a picture of Eva's plantar wart through the course of a couple months.  A couple months?!  Yes, it took that long and I'll tell you why, but first the pictures…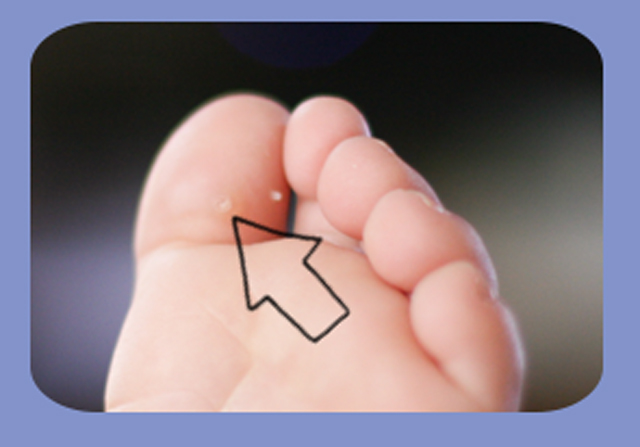 It doesn't look bad right?  I didn't think so either, but that little bugger is definitely there.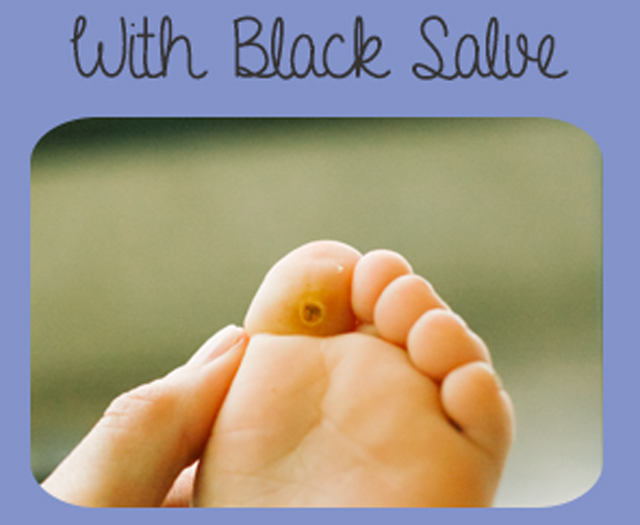 The above picture is of Eva's wart after treating it with black salve for a few weeks.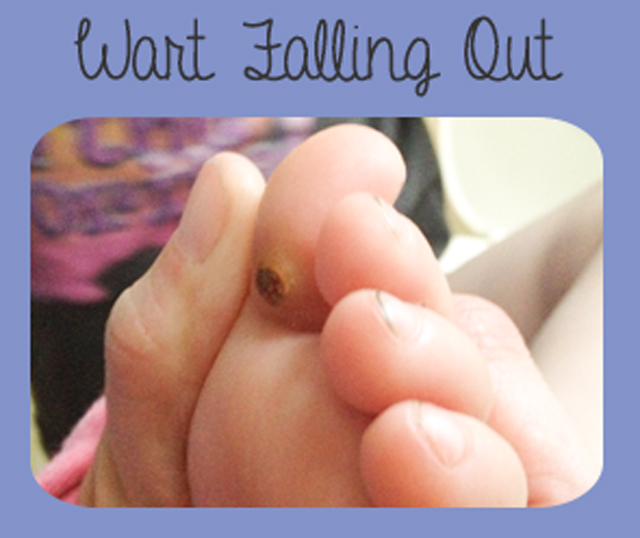 Above was as bad as it got, but truth be told, I was concerned at this point!  I though the wart was possibly growing and I considered calling  her pediatrician to get it frozen off.  I called my friend instead and had her look at it.  She agreed, it looked big and like it was worse.
The last picture above is the view right after the wart had come out.  The skin you see was scabby skin that eventually fell off.  Her toe is now smooth and there is no evidence of  her ever having a wart.
Black Salve Process for Plantar Warts
How did I do it?  Here was the general procedure I followed…
Dabbed a small amount of black salve on wart.
Covered with a tiny square of gauze.
Duct taped gauze onto toe.
Checked after a day or 2.
Washed.
Repeat step 1-5.
The reason it took me a couple of months to get rid of her wart is because sometimes there was a lag between step 5 and 6 of about a week.  I was guessing at this and at times I wasn't sure it was working.  I didn't want to overdo the black salve either and cause her big toe permanent damage.
Final Thoughts
The plantar wart looked MUCH worse right before it fell off.
There is no scar or emotional trauma from the black salve.
She did complain of pain at times, maybe from the salve, maybe the wart but it didn't seem to be unbearable pain.
Eva's toe is completely healed up and she is wart-free.
Black salve was less than our insurance co-pay and we have enough to treat 40 plantar warts if need be.
This post may contain affiliate links. These affiliate links help support this site. For more information, please
see my disclosure policy
. Thank you for supporting The New Lighter Life.