I've tried to like quinoa.  Really I have.
I know it's a superfood and all but I just don't experiement with it enough to find recipes we enjoy it in.
However, I've finally found a way to get quinoa into our diet.
Quinoa Bread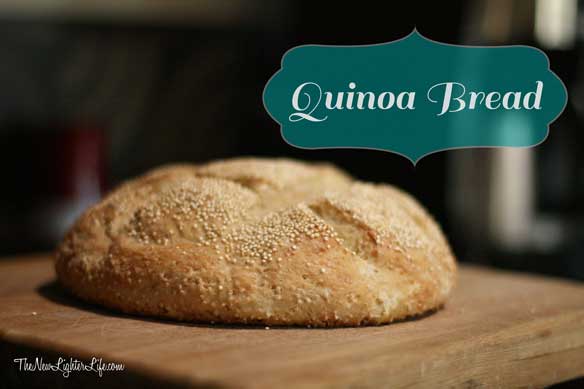 I modified my go-to bread recipe to accommodate the quinoa.  We love it!  It has a nutty flavor and is so moist!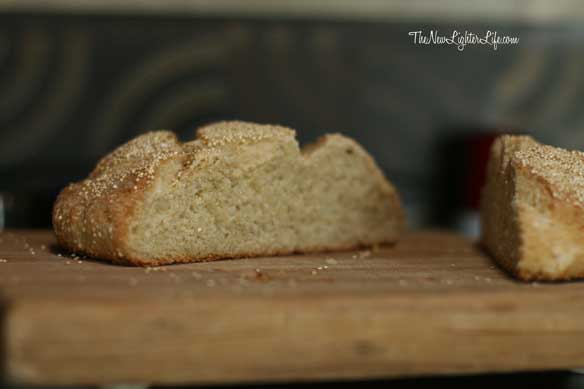 The added quinoa even erases the guilt I feel about using unbleached white flour.
So lets get baking…
Quinoa Bread
Print recipe
This homemade quinoa bread is nutty, rich, and moist. Recipe makes 2 loaves of bread.
Ingredients
3 cups water (divided)
1 cup quinoa
3 teaspoons active dry yeast
2 tablespoons sugar
2 tablespoons olive oil
2 teaspoons salt
4 cups flour
Note
This recipe makes 2 free form loaves of bread.  If you want to add the quinoa grains to the top, you can brush it with egg white and sprinkle the quinoa on top prior to the final rise.
Directions
Step 1
Add 2 cups of water and the quinoa to a kettle. Bring mixture to a boil and cook for 15 minutes, stirring periodically.

Remove cooked quinoa from heat and pour into a mixing bowl. Add 1 cup of cold water to the quinoa. Let mixture cool to between 110 degrees and 115 degrees.

Add the yeast and let set until mixture begins to bubble, about 5 minutes.

Add the sugar, oil, salt, and 3 cups of flour. Continue mixing, adding flour to the dough until the dough is no longer sticky and forms a ball.

Knead the dough for about 5 minutes. Pour a little oil in bowl and turn dough in it so it is lightly coated.

Cover dough and let rise for 45 minutes to 1 hour or until dough is doubled.

Preheat oven to 350 degrees. Shape dough, cut slits in top of loaf to allow for expansion and air to escape. Cover, let rise for 30 minutes.

Bake for 25 minutes at 350 degrees.
This post may contain affiliate links. These affiliate links help support this site. For more information, please
see my disclosure policy
. Thank you for supporting The New Lighter Life.