My kids hate soup or any of its counterparts.  But they LOVE this chowder.  The dill adds lots of flavor to an already yummy concoction.
I usually double this recipe for my family.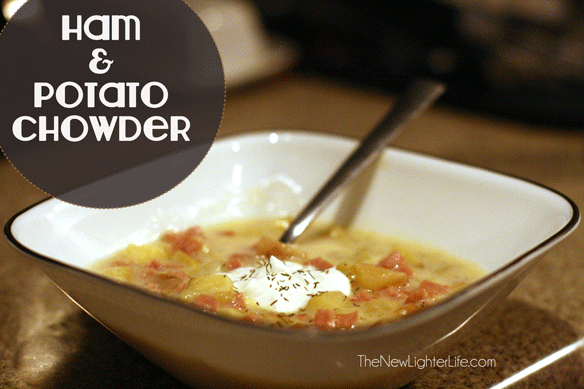 Ham and Potato Chowder
1 c. ham, cubed
1/2 c. onion, diced
2 T celery, diced
1 T butter
1 c. chicken broth
1 c. potatoes, cubed
4 tsp flour
1 1/3 c. milk
1/4 tsp dried dill
1/8 tsp pepper
sour cream for garnish
In a medium saucepan, cook the ham, onion, celery, & butter until onions soften. Add the broth and cubed potatoes and cook for 15 – 20 minutes.
In a separate bowl, combine the flour and milk until smooth.  Stir into saucepan and add the dill and pepper.
To serve, garnish with a dollop of sour cream.
This post may contain affiliate links. These affiliate links help support this site. For more information, please
see my disclosure policy
. Thank you for supporting The New Lighter Life.