After finally figuring out how to light my camper oven…which was ridiculously simple…embarrassingly…I roasted a pumpkin.  Just one.  It took a few hours. the liquid cooked up and it heated our camper.
Problem.
I had 3 pie pumpkins leftover from my garden.  I wanted to get them taken care of because I had BIG plans for them.
Since it's been unseasonably warm I wanted to avoid the oven, especially with that many pumpkins to cook.
But guess what?!  You can cook your pumpkins in the crock pot!  Yes sir-E.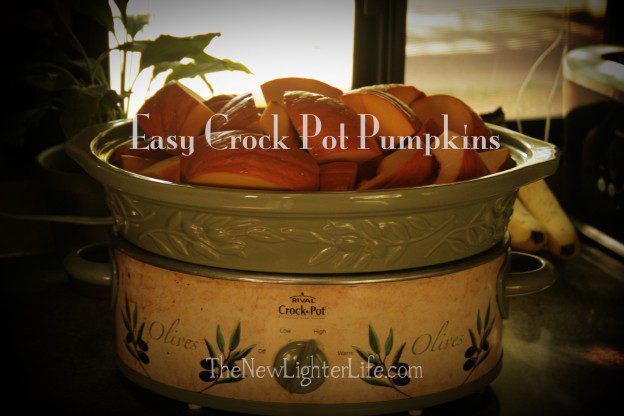 The process is easy, which is slightly modified from here.
Cut pumpkin in half.
Scoop out seeds and fibers.
Cut pumpkin up in to chunks or slices (the smaller you cut them, the more you can fit into the crock pot).
Add 1/2 c. water for each pumpkin.
Turn crockpot to high and let cook for 3-4 hours.
Pumpkin is cooked when a fork pierces the skin easy and the "meat" is tender.
Whaa Laa!
Cooked pumpkin.
I believe my crock pot is 6-Quarts and I fit 2 1/2 of my pumpkins.  I initially filled my crock pot too full and had to take some out.  2 batches but still carefree.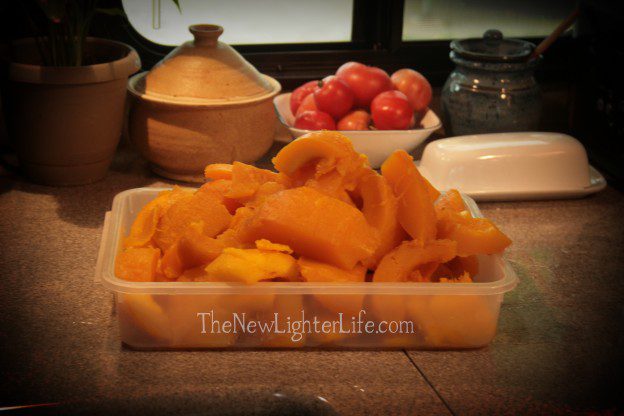 I cut away the skin of mine carefully so I could cube it and can it.  I was able to get 7 pints.  And yes I canned them.
I do not think I'll be canning much in the camper.
Had I remembered that they needed to be pressure canned for 55 minutes I would not have done it.  BUT since I had already prepped my jars, and filled them I pressed on like a good girl scout.
I found instructions for canning pumpkin here, my pumpkin harvest last year was dismal but this year, inspite of the drought and my lazy watering…I got 6 from one plant.  Good enough for me!
How was canning in the Camper?
Slow
and
Hot
It took a LONG time to get the canner hot enough.  And remember the heat I was complaining about?  Ummm…yeah, we were roasting.  I should have saved the seeds from the pumpkins and just laid them out on the counter.  Could have multi-tasked.
Do any of you full-time RVers can?  Or was that something you gave up?
Mission accomplished on the canning but I may need to admit defeat.  Can't win them all I suppose.
This post may contain affiliate links. These affiliate links help support this site. For more information, please
see my disclosure policy
. Thank you for supporting The New Lighter Life.