I got to spend some time with my sister recently, (a rare treat). I love sisterly bonding time…it's so nice especially when you live several states away from each other.
My sis has one of those fancy deep fryers so we plugged that puppy in and got to frying.  Donuts, cheese sticks, french fries, and dill pickles.
And as luck would have it she also has an AMAZING recipe for deep fried dill pickles.  She shared her recipe with me and now you all are beneficiaries!  Lucky you!!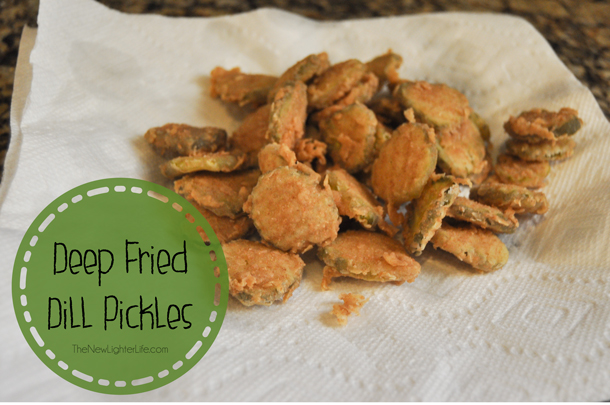 *Now to make these healthier, I highly suggest you use refined coconut oil.  Refined means the there is more processing and the coconut taste is absent.  The place I like to buy bulk oils from is called Soaper's Choice.  Don't be freaked out by the name of the company.  Yes, they sell oil to soap makers, but their oil is food grade.  Love, love, love it!
Deep Fried Dill Pickles Recipe
2 quarts of oil, (highly recommend refined coconut oil)
1 (16-oz) jar of dill pickle chips
2 c. buttermilk
2 c. wheat flour
1 c. white flour
2 tsp salt
1 tsp paprika
1/4 tsp cayenne pepper
Heat the oil to 350 degrees. Drain the pickles in a colander to get all the juice off.
Place the pickles in a bowl and cover them with buttermilk.
In a separate bowl, stir the flours, salt, paprika, & cayenne.
Take a handful of the pickles out of the buttermilk and dredge in the seasoned flour. Shake off the excess flour and place the coated pickles in the hot oil.  Do not place too many pickles in the oil or the pickles won't crisp up. Fry until golden brown. Remove the pickles from the oil and place them on paper towels to drain. Continue frying pickles until all are done.
These are yummy dipped in ranch dressing!
And this is her awesome fryer, the Presto Stainless Steel Dual Basket Deep Fryer.
It is available on Amazon, here and it's on my wish list!